Lesson Plan
Anne Frank: Writer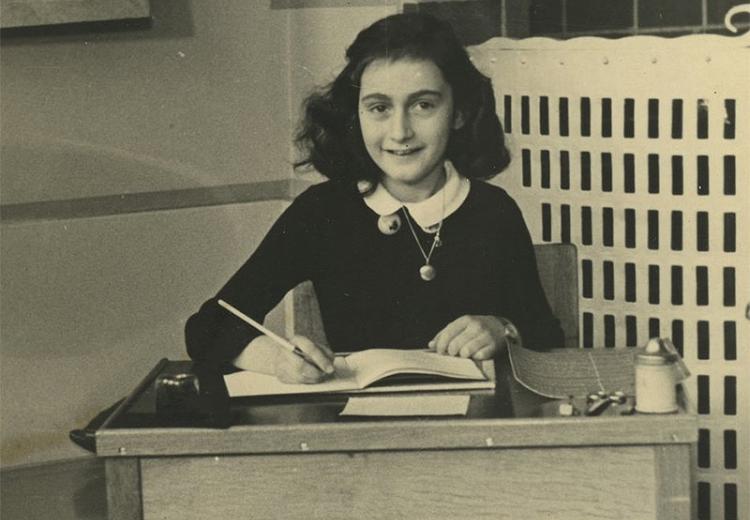 "... I finally realized that I must do my schoolwork to keep from being ignorant, to get on in life, to become a journalist, because that's what I want! I know I can write... it remains to be seen whether I really have talent...I need to have something besides a husband and children to devote myself to! ... I want to be useful or bring enjoyment to all people, even those I've never met. I want to go on living even after my death! And that's why I'm so grateful to God for having given me this gift, which I can use to develop myself and to express all that's inside me!

"When I write I can shake off all my cares. My sorrow disappears, my spirits are revived! But, and that's a big question, will I ever be able to write something great, will I ever become a journalist or a writer?"

—Anne Frank, Wednesday, 5 April,1944
In its online introduction to Anne Frank, the United States Holocaust Memorial Museum states, "Anne Frank was one of the hundreds of thousands of Jewish children who died in the Holocaust." In that sense, she is not unique; however, through the very ordinary act of writing a diary, through her youthful wisdom and budding literary talent, Anne remains today an extraordinary "symbol for the lost promise of the children who died in the Holocaust." This lesson invites you to supplement your students' reading of The Diary of a Young Girl by connecting the diary to the study of history and to honor the legacy of Anne Frank, the writer, as she inspires your students to use writing to deepen their insights into their own experiences and the experiences of others.
Guiding Questions
For what purposes did Anne Frank use her diary?
What writing strategies did Anne Frank employ?
How can students apply these and similar strategies in their own writing?
Learning Objectives
Analyze the extent to which Anne Frank changed during her time in the Secret Annex. 
Examine the text to identify techniques used to convey perspectives, emotions, and observations. 
Apply writing techniques used by Anne Frank to the creation of an original work.