Lesson Plan
Afro Atlantic: Mapping Journeys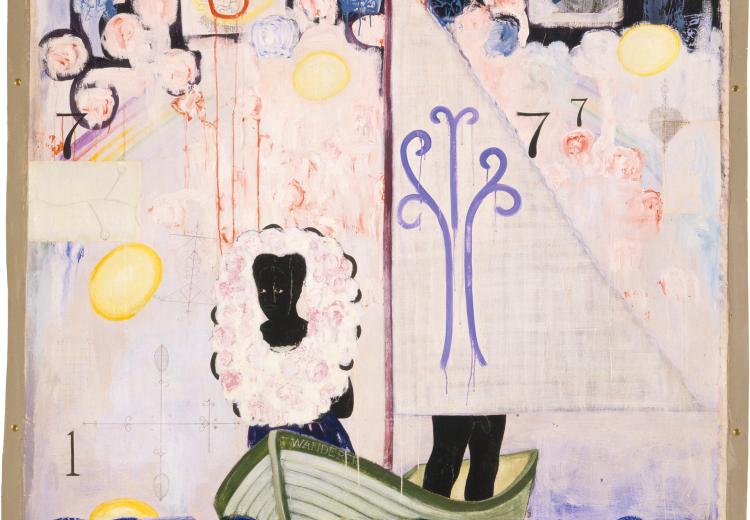 Kerry James Marshall, Voyager, 1992, acrylic and collage on canvas, National Gallery of Art, Washington, Corcoran Collection (Gift of the Women's Committee of the Corcoran Gallery of Art), 2014.79.52
Between 1517 and 1887, more than 12 million people were forcibly transported from Africa to conditions of enslavement throughout the Atlantic world. Kerry James Marshalls painting Voyager offers a symbolic interpretation of these journeys and the cultural legacies seen in the communities of the Afro Atlantic Diaspora. Use this painting alongside the rich data sets in the NEH-funded Slave Voyages: The Transatlantic Slave Trade Database to introduce the geographic and economic legacies of the transatlantic slave trade and invite opportunities for further research by students. 
This resource is drawn from the content of the Afro-Atlantic Histories exhibition organized by the Museum of Fine Arts, Houston, and the Museu de Arte de São Paulo in collaboration with the National Gallery of Art, Washington. All related materials found on EDSITEment have been provided courtesy of the National Gallery of Art, Washington.
Guiding Questions
What did captives aboard slave ships experience?
What evidence of forced migration can be seen in the cultural legacies of the Transatlantic slave trade?
What areas of the globe comprise the Afro Atlantic world? Why is this term important?