Lesson Plan
African-American Soldiers in World War I: The 92nd and 93rd Divisions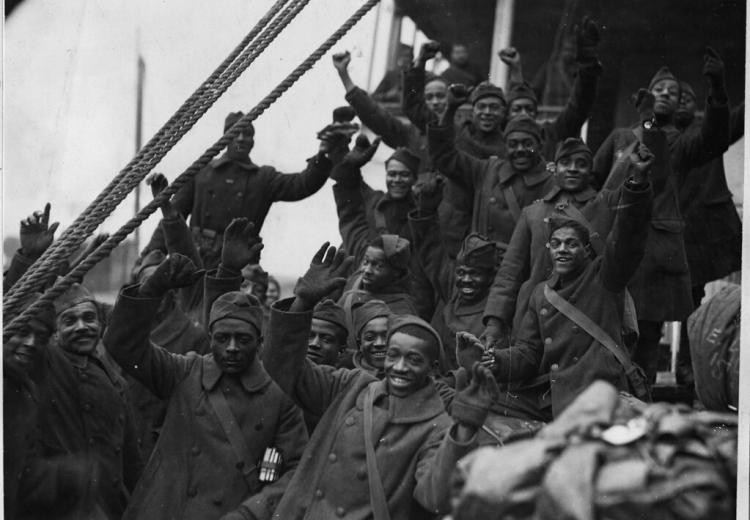 "The Crisis says, first your Country, then your Rights! Certain honest thinkers among us hesitate at that last sentence. They say it is all well to be idealistic, but is it not true that while we have fought our country's battles for one hundred fifty years, we have not gained our rights? No, we have gained them rapidly and effectively by our loyalty in time of trial."

—W.E.B. DuBois, from Buffalo Soldiers at Huachuca: Racial Awareness After the War (1918)
Late in 1917, the U.S. War Department created two all-black infantry divisions. The 93rd Infantry Division received unanimous praise for its performance in combat, fighting as part of France's 4th Army. In this lesson, students combine their research in a variety of sources, including firsthand accounts, to develop a hypothesis evaluating contradictory statements about the performance of the 92nd Infantry Division in World War I.
Guiding Questions
Why were African Americans so willing to fight, considering the discrimination they faced at home?
How were African Americans in combat affected by prejudice in American society?
To what extent did serving in WWI change how African Americans were treated in the United States?
Learning Objectives
Analyze the competing perspectives surrounding the establishment of an all black U.S. Army regiment during World War I.
Compare the establishment of the Harlem Hellfighters during World War I with participation by black soldiers in previous U.S. wars. 
Evaluate the short and long term significance of the Harlem Hellfighters regiment in the U.S. Army and in U.S. society.