Closer Readings Commentary
Igniting a Passion for History with Chronicling America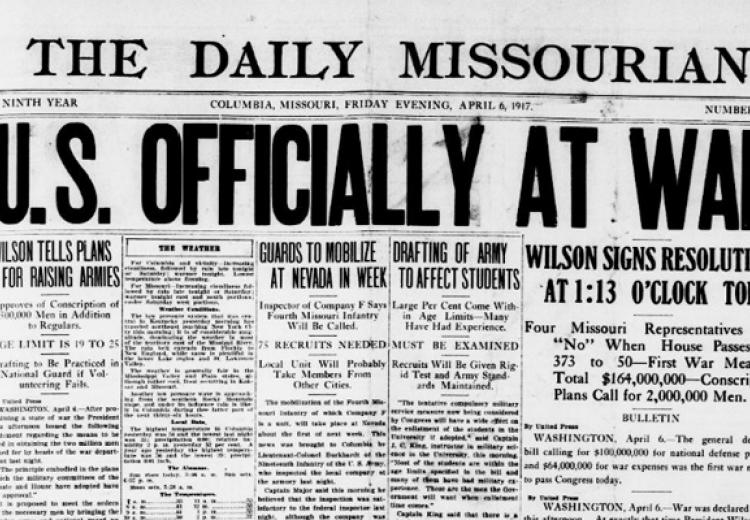 So many of our students arrive with a negative impression of the discipline of history. They have come to the conclusion that the study of history is about memorizing a ton of dull facts. Why wouldn't they feel this way? It is not until later in life that they will be exposed to the real work of historians through taking an upper-level college history course or researching family genealogy. It is through piecing together a compelling and insightful narrative from primary sources that students begin to understand that history is based on evidence and inference, insight and analysis. They also discover that agreed-upon narratives can be overturned as new primary sources are discovered, analyzed, and digested. One way to ignite the passion for history is to give students the experience of solving a puzzle by searching through an archive of primary sources.
How I introduce primary sources
Introducing primary sources into history classes is nothing new, especially with the emphasis on literacy skills in the Common Core curriculum. I am a big supporter of Stanford's Reading like a Historian curriculum. From the first day of school, I immerse my students in the techniques required to read and understand difficult texts. I talk with them about the questions that I ask when approaching a possible new source for my research. We discuss the pros and cons of using each source. Then we discuss what that source adds to what we already know about the topic.
While these are all critical skills, I wonder if students are missing an important step. The discovery of a new primary source can be just as exciting as receiving a package in the mail or getting a gift on your birthday. With technology making it easier than ever to do the work that used to require spending hours in the archives or staring at a microfilm machine, why not incorporate the process of discovery into our classes? While this process of finding primary sources requires teachers to give up some control over what students will learn about a given topic, it opens up a world of possibilities.
Chronicling America as a primary source
One of the free resources that teachers can use is the Chronicling America database from the Library of Congress. The database contains newspapers published in the United States from 1836–1922. Students can select a newspaper from their state and maybe even find a hometown newspaper. The database allows students to search newspapers that were published by a certain ethnic group or labor organization so that they can find different perspectives on a topic.
Depending on the purpose of the research, there are a variety of options that students can select under the advanced search function. You can access the database through EDSITEment's Chronicling America portal. Here you will find video tutorials, lesson plans, and suggestions for finding topical articles for National History Day projects.
One of my favorites is Chronicling America's ever-growing list of recommended topics that students can research. The topics are listed in alphabetical order, by subject category, and by date range. Each recommended topic provides a "headnote", i.e., a general description of topic, important dates, suggested search terms and strategies, and sample articles. Topics also come with an illustration from a newspaper illustration, which in most cases is a political cartoon or advertisement. These advertisements lend themselves to lessons on economics and even gender roles. Thus, this database has the potential to be used for many different types of lessons.
World War I from politics to poetry
In the past, I have had my student's research events related to WWI. I developed a lesson for National History Day in which students compare newspaper articles with the description of the event in their textbook. In the lesson, Reporting on WWI, students research topics ranging from the Christmas truce to the signing of the Treaty of Versailles. Students then work in groups to compare the articles with the description in their textbook. This lesson has led to great discussions on what is missing in secondary sources. My students enjoy discovering that the events are more complicated than what is presented in their textbook.
Students can use Chronicling America to find more than just newspaper articles. One of the recommended topics is WWI poetry, which provides access to poems written by American soldiers. Poems offer a great opportunity to give students a better sense of what soldiers were thinking and feeling. 
National History Day
Chronicling America is a great resource for students participating in the National History Day Competition. EDSITEment offers suggestions on how to use its resources for this year's NHD theme Taking a Stand in History. This informative resource can be found on EDSITEment's rich Chronicling America portal.  
With a limited amount of time to teach any one topic, it is not surprising that most teachers would skip the step of having students find their own primary sources. While I don't advocate having students do original research on every topic discussed in class, I do think they should have the opportunity. It takes time to teach students how to do research, but I believe that it is time well spent. The earlier students are exposed to original research, the earlier they develop an understanding of what historians actually do.
More resources
ABOUT THE AUTHOR
Amanda Hilliard Smith currently teaches social studies at Beaufort County Early College High School in Washington, N.C. She recently published The Williamston Freedom Movement, A North Carolina Town's Struggle for Civil Rights, 1957–1970 on the civil rights movement in her hometown. Amanda was recognized as the 2013 North Carolina National History Day Teacher of the Year and the 2014 North Carolina History Teacher of the Year by The Gilder Lehrman Institute.