Closer Readings Commentary
Student Interactives for U.S. History: Revolution to Reconstruction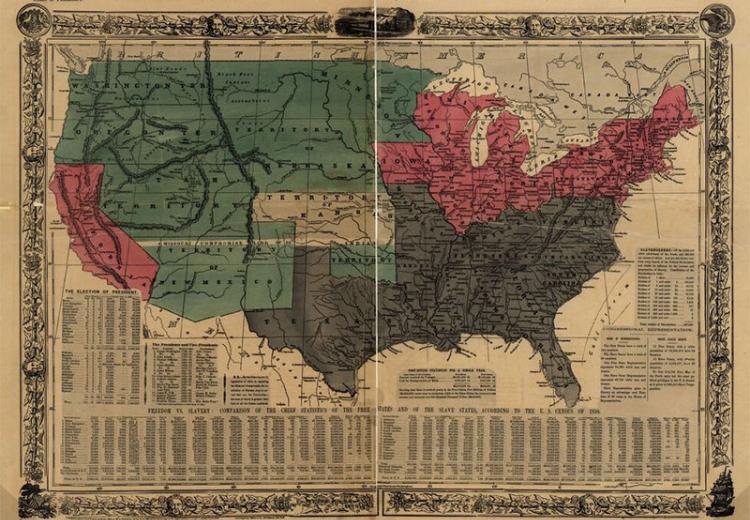 Many of EDSITEment's lesson plans incorporate engaging interactives alongside primary sources to teach about a range of content topics in U.S. history. Timelines, maps, decision making scenarios, and more are available as introductions to eras in history, significant events, and as catalysts for student inquiry. 
American War for Independence: Interactive Map—This interactive map of the campaigns of the American Revolution in the northern colonies includes primary sources and questions for analyzing maps and texts.
The Creation of the Bill of Rights: "Retouching the Canvas"—What did the 13 states think about amending the Constitution? Students navigate an interactive and conduct research to participate in a discussion portraying the representatives who voted on the adoption of the Bill of Rights. 
An Early Threat of Secession: The Missouri Compromise, 1820–1821—Interactive map illustrating the geography, demography, and political division of the United States as a result of the Missouri Compromise over the issue of Slavery in 1820–21.
The Kansas–Nebraska Act: Interactive Map—Interactive political and demographic map of the U.S. in 1854 that allows users to see the economic, demographic, and political makeup of regions and states at the time.
Lincoln on the American Union: A Word Fitly Spoken—Interactive timeline of Lincoln's most famous speeches.
The American Civil War: on the Eve of the War—Interactive using a series of animated maps to summarize all the factors and statistics on the United States on the eve of the American Civil War.
On the Eve of Civil War: Civil War Commanders—Interactive that introduces the principal generals on both sides of the American Civil War.
Battles of the Civil War: Campaigns Map—Comprehensive animated map showing the locations and travel routes of the major Civil War military campaigns.
The Battle over Reconstruction: Southern Recovery, 1860-1880—Statistical look at Southern recovery, before and after the Civil War.